Posts: 10,473
Welcome to the Culinary Quest!  Players are traveling the world one bite at a time.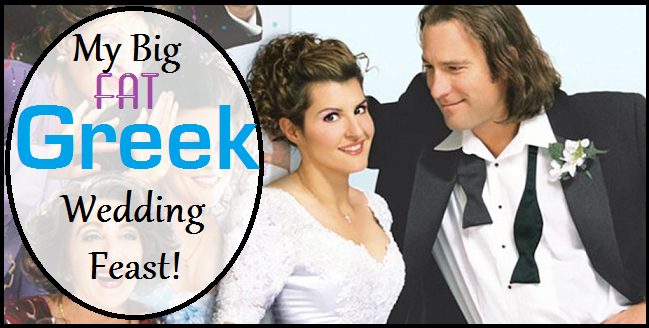 Start Date:  August 12th
End Date:   August 25th

Player Limit: 2 per team
Challenge Type: Individual, cooking
Points: 8 points per player for a possible total of 16 points per team
Opa!  There is now a "My Big Fat Greek Wedding 2" movie.  You knew there had to be a sequel to the hilarious and heart-felt story of Toula Portokalos, a Greek-American woman who falls in love with a non-Greek man.  Although the movie was a sleeper hit, the film became the highest-grossing romantic comedy of all time. 

Whether or not you have seen both of these movies, no doubt you have a favorite character or two.  Maybe it's Gus, the Father, who never fails to teach everyone that the "Portokalos" name comes from the root word "portokali", which means orange or maybe it's the quirky Aunt Voula, who chastises Toula's fiancee with her famous words, "What do you mean, he don't eat no meat? Oh, that's okay, I make lamb".
The movie itself began as a one-woman play, written by and starring Nia Vardalos performed for six-weeks at the Hudson Backstage Theater in Los Angeles in the summer of 1997.  The play was based on Vardalos' own family in Winnipeg and on her own experience marrying a non-Greek man (actor Ian Gomez).  The play was popular and was sold out for most of its run.  A number of Hollywood executives and celebrities saw this play.  As a result of the play's popularity, Nia Vardalos began meeting with Hollywood executives about making a screen version of the play and as they say, "The rest is history".
CHALLENGE:
For this challenge, you will need to ~~


~Plan a menu for a dinner party "feast" for your friends and your favorite cast member of the "My Big Fat Greek Wedding" movie 1 or 2.  Your menu should include recipes from the approved recipe list for Greece and should include an appetizer, salad or soup, entree, vegetable or side dish, and a dessert (beverages are excluded). Please post your menu here along with all other completed components of this challenge.

~Prepare at least one recipe (beverages excluded) from your planned menu, post a review to the recipe, provide the recipe link and a photo, if desired (photo not required).

~Tell us the name of your favorite movie character (movie 1 or 2) and tell us why you chose this character.  Write up a short bio on your character and provide at least one of their famous quotes from the movie.  Feel free to provide photos of your character.

~Be sure to post all completed components of this challenge here and also post your completion in your team thread.





                                   
____________________________________________________________________________
MY BIG FAT GREEK WEDDING FEAST!
TEAM
Σisters of the Traveling Pans
Score=16

1.  Twissis -
http://www.justapinch.com/recipes/appetizer/other-appetizer/marinated-greek-olives.html?p=14

2.  Lauralie51 -
http://www.food.com/recipe/broiled-or-barbecued-chicken-with-lemon-427687
 by PanNan 

TEAM
H π         
Score=16

1.  Sheepdoc -
https://cookingonpage32.wordpress.com/2015/12/03/chickpea-salad/

2.  Lavender Lynn -  
Walnut Cake (Karithopeta) 

TEAM
π

P Maniacs         
Score=16

1.  threeovens -
http://www.justapinch.com/recipes/side/vegetable/greek-cauliflower.html 

2.  starrynews -
Greek Polpetes (Potato Cakes) 

Quest Guides
   .............
Score= 

1.
2.  
Last Edited By: Nancys Pantry Aug 26 16 7:11 PM. Edited 16 times