Posts: 3,412
Traveling the world one bite at a time! 
New York City is one of the most popular tourist destinations in the world, and with good reason. NYC is the mecca of business in the United States, and as a melting pot of American culture, there is something for every style, taste and budget in New York City. NYC is the most populated city in the America, with more than 8 million people currently living in NYC. New York City is also the most diverse U.S. city, with residents hailing from every corner of the globe. New York City is a city of many names, including "The Big Apple," "The City That Never Sleeps,"and even "Gotham City." Perhaps the most culturally rich city in America, NYC has inspired hundreds of classic songs - most notably Frank Sinatra's "New York, New York," and "Empire State of Mind" by Jay-Z. 
Dates:
Round 3: Aug 12- Aug 25 
All challenges for NYC must be completed by 11:59pm central time on Aug 25th
New York City Challenges: 
Big Apple Adventures:
http://4foodfriendsandfun.yuku.com/topic/1708/Big-Apple-Adventures
Waldorf vs Wedge:
http://4foodfriendsandfun.yuku.com/topic/1712/Waldorf-Vs-Wedge-A-Tale-of-Two-Oscars
Your Deli or Mine?:
http://4foodfriendsandfun.yuku.com/topic/1713/Your-Deli-or-Mine
Scandals, Tramps, and Thieves:
http://4foodfriendsandfun.yuku.com/topic/1715/Scandals-Tramps-and-Thieves

You may be asking how New York City fits into our archipeglio theme. 42 islands comprise this city's diverse archipelago.    Within the city's boundaries there are dozens of islands―some famous, like Ellis, some infamous, like Rikers, and others forgotten, like North Brother. Each and every one of them has a unique history - most were settled at one time or another, most are abandoned now - as well as a unique ecosystem.  While the spotlight often falls on the museums, trends, and restaurants of Manhattan, the city's other islands have vivid and intriguing stories to tell. They offer the day-tripper everything from nature trails to military garrisons. 
NYC is made up of five different boroughs - Manhattan, Brooklyn, The Bronx, Queens and Staten Island. ​Many islands which were once islands,  have long since been connected to the boroughs by artificial landfills are also covered here (e.g. Coney Island-Brooklyn, Hunter Island-Bronx, Battery Park area-Manhattan, etc..)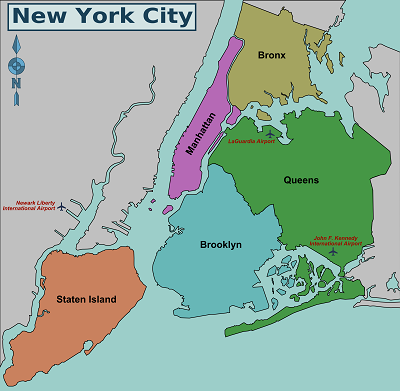 ​

Last Edited By: Susie D Aug 5 16 12:19 PM. Edited 3 times