Posts: 3,412
Traveling the world one bite at a time!

 
Restaurants chefs are responsible for many dishes we enjoy or even make in our own kitchens today. Two beloved classic salads were created in historical places in New York City. Both salads are credited to a man named
Oscar. 
A
Waldorf salad
is a salad generally made of fresh apples, celery, peanut and walnuts, dressed in mayonnaise, and usually served on a bed of lettuce as an appetizer or a light meal. Other ingredients, such as chicken, turkey, grapes, and dried fruit (e.g. dates or raisins) are sometimes added. Updated versions of the salad sometimes change the dressing to a seasoned mayonnaise or a yogurt dressing. A variation known as an Emerald Salad replaces celery with cauliflower. The salad also may include zest of oranges and lemons.
the Waldorf-Astoria Hotel
The salad was first created between 1893 and 1896 at the Waldorf Hotel in New York City (the precursor of the Waldorf-Astoria Hotel, which came into being with the merger of the Waldorf with the adjacent Astoria Hotel, opened in 1897).
Oscar Tschirky
, who was the Waldorf's maître d'hôtel and developed or inspired many of its signature dishes, is widely credited with creating the recipe. In 1896, Waldorf Salad appeared in The Cook Book by "Oscar of the Waldorf"; the original recipe did not contain nuts, but they had been added by the time the recipe appeared in The Rector Cook Book in 1928.

A Wedge Salad is a appealing mix of cooling and creamy elements. If you're of a certain age, the wedge salad might be the salad your mom served when you were having company. It has been making a comebacklately.   One of the hallmarks of a wedge salad is its total simplicity. There's not much to a wedge salad, which may be part of its appeal, but each component is a contrast of flavors and size. The wedge of lettuce vs the confetti of additional ingredients 
plays with proportion in an interesting way.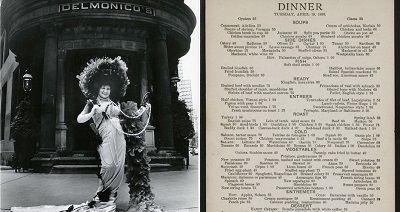 Delmonico's Steak House
Under
Oscar Tucci
's ownership of Delmonico's, he created the Wedge Salad. After a trip to a Bridgeport Connecticut farm, Oscar picked the ingredients that became the salad as we know it to be. Tucci added bacon to the dish shortly after. The salad became an instant favorite, some notable restaurateurs criticized the salad saying it was drenched in dressing. Today the Wedge Salad is served internationally and recognized as one of the most famous salads of the 20th century.

DATES:
Aug 12- Aug 25
All New York City challenges must be completed by 11:59pm Central on August 25.
DETAILS:
STYLE OF PLAY:   Individual Cooking Challenge
POINTS:    3 points per player
LIMIT:  up to 5 players per team can participate 

For this Challenge:
~Players are to select, prepare and review one Waldorf or Wedge Salad recipe from the Approved Recipes List found here:
http://4foodfriendsandfun.yuku.com/topic/1716/Welcome-to-New-York-City
~The total prep & cooking time as posted by the recipe author must be
30 minutes or under.
~Up to 5 players from each team may participate in this challenge.
~After deciding if you will make a waldorf or wedge salad find  3 historical tidbits about the restaurant-hotel or the Oscar responsible for creating the salad you selected to make. Share these fun facts in your completion post. 
~Return to this challenge thread to report your completion and include a working link to the recipe. 
In your completion posts, please remember to:  
~ include the 3 historical facts    
~ include any photo(s) you posted to the recipe that you reviewed      
~ include your team banner
~Post the same in your team's thread. 

Last Edited By: Susie D Aug 10 16 11:31 AM. Edited 2 times