Posts: 1,021
 Never thought of using pasta as a dessert - these couple of recipes will soon change your mind!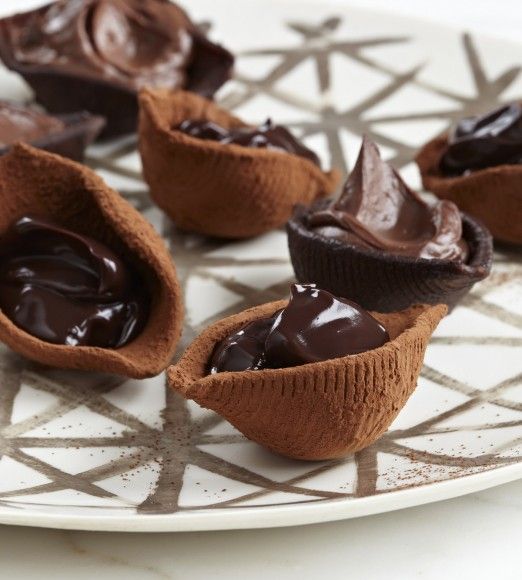 Chocolate Stuffed Shells (Conchiglioni dolci al cacao)
From: "Pasta Modern: New & Inspired Recipes from Italy," by Francine Segan
Prep Time: 5 minutes
Cook Time: 15 minutes
Total Time: 20 minutes
Yield: 24 large shells, serves 4 to 6
Use just cocoa powder for unsweetened shells that become a gorgeous reddish-brown color, or sweeten the cocoa powder with confectioners' sugar for a lovely dark-colored sweet shell. Using a teaspoon, fill the shells with anything you like. Pictured here is milk chocolate and dark chocolate pudding.
Other fun options:
Ice cream, slice of banana, dollop fudge sauce and chopped nuts for a mini sundae
Ricotta, sugar, mini chocolate chips for a soft cannoli
Mascarpone cheese, sugar and drop of coffee for an instant tiramisu
Cream cheese, fruit jam and fresh fruit for Italian-style cheesecake
Ingredients
24 jumbo shells
Salt
1/4 cup cocoa powder
1/2 cup confectioners' sugar
Fillings and garnishes: about 2 cups total of gelato, custard, whipped cream, fruit, yogurt, etc.
Directions
1. Cook the shells in lightly salted boiling water until al dente and drain.
2. For sweeter shells, put the cocoa powder and confectioners' sugar, to taste, into a sturdy plastic food storage bag. Toss the shells, a few at a time, into the bag until fully coated with cocoa powder. For less-sweet shells, toss them in just cocoa powder. Fill with anything you like.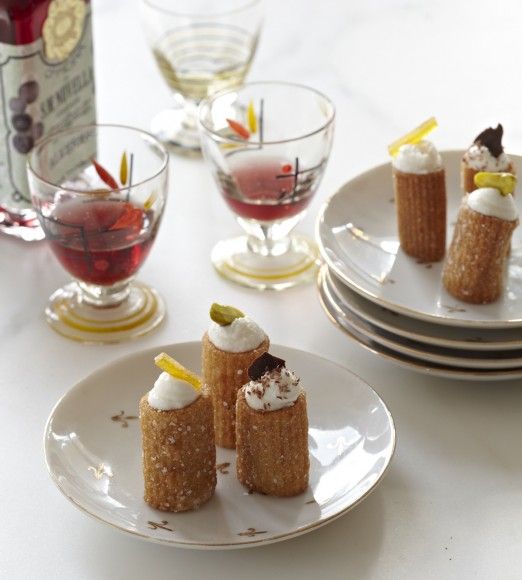 Cannoli Pasta Bites (Mezzi Maniche Dolci)
From: "Pasta Modern: New & Inspired Recipes from Italy," by Francine Segan
Prep Time: 15 minutes
Cook Time: 20 minutes
Total Time: 35 minutes
Yield: 4 to 6 servings
Try this recipe once and, like me, I bet it will become one of your go-to desserts.
There are lots of ways to vary it. One of my favorite variations is to fill the fried pasta with mascarpone cheese sweetened with sugar and then dust with instant coffee granules and cocoa powder, for a riff on tiramisu.
Ingredients
1 cup ricotta
2 tablespoons granulated sugar
1 tablespoon finely chopped dark chocolate or mini chocolate chips
1 tablespoon minced candied orange peel
Pinch of ground cinnamon
1/4 pound mezzi maniche
Salt
Vegetable oil
Optional garnishes: chopped pistachios, chopped candied cherry or orange peel, cocoa powder or chopped chocolate
Directions
1. In a bowl, using a fork, mix the ricotta, sugar, chocolate, candied peel and cinnamon until well combined. Refrigerate until ready to use.
2. Cook the pasta in boiling salted water until very tender, about 1 minute longer than al dente. Drain the pasta well. Meanwhile, heat about 1 inch of vegetable oil in a very small saucepan until hot, but not smoking. Add half of the pasta and fry until golden and crisp, about 2 minutes. Remove with a slotted spoon and drain on a paper towel. Repeat with the remaining pasta.
3. When room temperature, roll the fried pasta in granulated sugar, then fill each with the ricotta mixture, either using an espresso spoon or by piping it in with a pastry bag. Garnish, if you like, with chopped pistachios, candied orange peel, grated chocolate or other toppings.
Do you use pasta in desserts, if so please share your recipes and ideas.