Posts: 1,021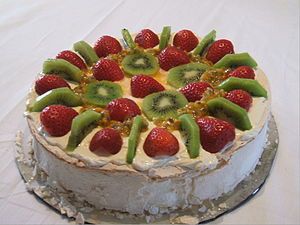 Pavlova is a meringue-based dessert named after the Russian ballerina Anna Pavlova. It is a meringue cake with a crisp crust and soft, light inside, usually topped with whipped cream and fruit.
The dessert is believed to have been created in honour of the dancer either during or after one of her tours to Australia and New Zealand in the 1920s. The nationality of its creator has been a source of argument between the two nations for many years, but formal research indicates New Zealand as the source.
The dessert is a popular dish and an important part of the national cuisine of both countries, and with its simple recipe, is frequently served during celebratory and holiday meals. It is a dessert most identified with the summer time, but is eaten all year round in many Australian and New Zealand homes.
Here is a great recipe by I'm Pat 
http://www.food.com/recipe/pavlova-shell-249563
please share some of your pavlova ideas and recipes.