Posts: 1,021
In the early days of the colony the precarious food supplies resulted in a staple diet of meat and cheese, tempered with some vegetables and wheat products. The food was mainly based on English fare, and by 1900, regardless of our long hot summers, the preference for hot meals with plenty of meat persisted.
In fact, Australians were recognised as the greatest meat eaters in the world. Even the middle class rarely ate fresh fruit or salads and Australia's wonderful variety of seafood was largely unrecognised.
A hundred years on and things have really changed and a lot of this change was due to the immigration of so many people from so many countries.  This has resulted in Australia being not only multi cultural but a wonderful combination of delightful dishes.
Here are just a few of the old favorite recipes that are for ever Australia!
http://www.food.com/recipe/lamingtons-110255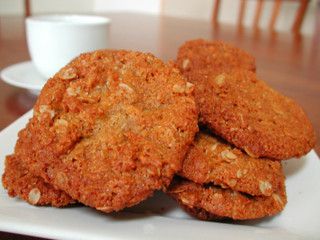 http://www.food.com/recipe/anzac-biscuits-176728
http://www.food.com/recipe/pumpkin-scones-18101
Whats your favorite Australian recipe? anything from salads to desserts  do please share.