Posts: 1,021
A stunning picture of Biltong! one of South Africa's favorite snack!
South African cooking is such a mixture of cultures. The Dutch, German, French, I talian Greek and British  and Indians have all helped create this cuisine this includes the Cape Malay People which have many characteristics of Indonesia and also Portuguese Mozambique
Here are a few really lovely recipes you might like to have a look at
http://www.epicurious.com/recipes/food/views/bobotie-231245
http://www.food.com/recipe/south-african-sausage-boerewors-50588
http://www.food.com/recipe/chicken-pie-traditional-south-african-style-128411
seasoned lamb on a skewer, are commonly eaten at meals. Sosaties are most frequently served at a barbecue, or braai also  the famous boerewors sausage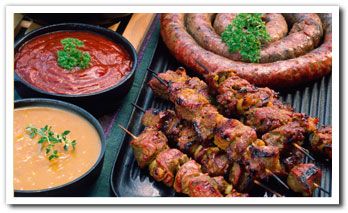 This recipe sounds great to serve at barbecues - I ingtend to try this sometime in the coming week!
Komkomer Sambal (Cucumber Relish)
Ingredients
3 medium-sized fresh cucumbers, peeled and seeded
1 teaspoon sea salt
1 Tablespoon cider vinegar
1 clove garlic, finely minced
1 teaspoon jalapeno pepper, finely minced
Procedure
Grate the cucumbers on the large holes of a hand grater into a salad bowl.
Sprinkle them with the salt and let them stand for 2 hours.
Drain them in a colander, pressing out the liquid.
Add the vinegar, garlic, and jalapeno pepper and mix well.
Cover with plastic wrap and chill for at least 1 hour.
Serves 6.
I have heaps more recipes I want to add so will be back later this recipe by Zuri is one of my favorite chicken Curries
http://www.food.com/recipe/cape-malay-chicken-curry-by-zurie-319570
, do please add any of your favorites and tips too  
Last Edited By: Joyfulcook May 2 15 12:20 AM. Edited 4 times