Posts: 1,021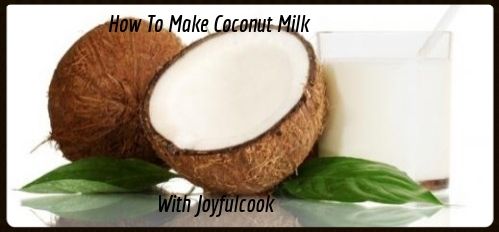 Coconut milk is commonly used as a base in Indian and Thai recipes, and it makes a delicious addition to smoothies and many desserts. Canned coconut milk can be expensive, but you can easily make your own from either shredded  coconut.
2 cups unsweetened, shredded coconut
4 cups hot  or slightly more (not boiling), pure water
Directions:
Place shredded coconut in a blender add the hot water (not boiling), pure water.
Let soak for  half an hour or more
 In the blender, combine coconut, soaking water, and vanilla and stevia, if using. Blend on the highest speed for about a minute.
Strain liquid through a nut milk bag, paint strainer bag or very, very fine cheesecloth, pressing out all the liquid you can.
Discard solids
I make this regularly and you can successfully freeze coconut milk then just pop it in your recipe frozen when required.
of course there are other ways using fresh coconut  but using dried  (desiccated) coconut means that you can have it on hand in your pantry
Do make sure  that you buy the unsweetened Coconut - easy to find in any Asian supermarket or store.