Posts: 1,021
o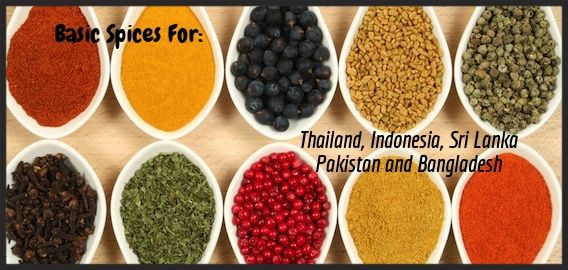 Don't let the list of spices put you off, they can be aquired over a period of time.  Do store them in airtight containers or your kitchen will have the aroma of an Asian restaurant!
THAILAND
Lemongrass. Lemon Grass is a plant that looks like grass, smells minty and tastes similar to lemon (hence the English name Lemongrass). T
Kaffir lime leaves. There is nothing like kaffir lime leaves in the world, as these leaves are just packed with a wonderful strong citrus
Soy Sauce
Fish sauce. Fish sauce provides the salty dimension in Thai cuisine, and it's high in protein as well as minerals and vitamins. It's made from small fish, salt-fermented for a long time
Garlic.
Thai chile peppers.
Coconut milk.
Galanga. A type of ginger, but it's milder
Palm sugar.
Dried Shrimp paste
Jasmine rice. Also known as "fragrant rice",
INDONESIA
Candlenut (tingkih/kemiri):A round, cream-colored nut with an oily consistency used to add texture and a faint flavor to many dishes. Substitute macadamia nuts or raw cashews.
Cinnamon
Cloves
Coconut
Coriander seeds
Cumin
garlic
lemongrass
lime
Nutmeg
palm sugar
peanuts
shrimp paste (trasi)
soy sauce
Tamarind
turmeric
SRI LANKA
Sri Lankan Curry powder (roasted if possible)
Cloves
Black Pepper
Cardamom
Chillies
Cinnamon
Cloves
Curry leaves
Cumin Seeds
Fennel Seeds
Fenugreek Seeds
Ginger,
Mustard Seeds - Black/Brown)
Turmeric
Tamarind
Coconut Milk
PAKISTAN
All Spice
Aniseed of Fennel Seed
Bay Leaf
Black Pepper
Caraway Seeds
Cardamom
Cinnamon
Cloves
Coriander
Cumin
Curry Leaves
Fenugreek Seeds
Garam Masala
Turmeric
BANGLADESH
ladesh
Mustard Oil
Garlic,
Turmeric
Coriander
Cumin
Bay leaf
Chilli Powder
Black Mustard Seeds