Posts: 1,021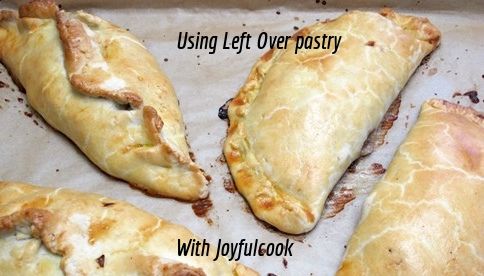 Palmiers/Pinwheels – roll the assembled pastry into a rough rectangle, it can be a raggedy one.  Scatter something delicious over the surface – good combinations would be Cheddar and Chilli, Pecans & Maple Sugar, Ham and Cheese, Dried Fruit & Brown Sugar, whatever you've got.  Roll up the pastry from one long edge, moisten the far edge and seal the roll. EITHER place sealed side down on a greased baking sheet, glaze and sprinkle the top as appropriate, bake till crisp and golden and then slice into pinwheels OR slice before baking, lay cut side up on the baking tray and cook like that.  The second option is good when using cheese as it goes all melty and yum
.
http://cheese.food.com/recipe/leftover-pasties-232439?photo=83320
http://www.food.com/recipe/tasty-cheese-and-sesame-nibbles-467753
Palmiers/Pinwheels – roll the assembled pastry into a rough rectangle, it can be a raggedy one.  Scatter something delicious over the surface – good combinations would be Cheddar and Chilli, Pecans & Maple Sugar, Ham and Cheese, Dried Fruit & Brown Sugar, whatever you've got.  Roll up the pastry from one long edge, moisten the far edge and seal the roll. EITHER place sealed side down on a greased baking sheet, glaze and sprinkle the top as appropriate, bake till crisp and golden and then slice into pinwheels OR slice before baking, lay cut side up on the baking tray and cook like that.  The second option is good when using cheese as it goes all melty and yum.
There is so much that you can do with some left over pastry. from making just a few jam tarts, to mini pasties or just a few nibbles, specially if its puff pastry - that makes delicious nibbles. where shortcrust makes great jam tarts and mini tips fort a pot pie.
http://www.food.com/recipe/pesto-pastry-stars-184466
http://www.food.com/recipe/raspberry-pastry-roll-ups-174796
http://www.food.com/recipe/cheese-pastries-vegetarian-epicure-218651
What do you do when you have left over pastry? do share please