Posts: 1,021
Like most Chinese meals its always quite quick to put to gether,  the region of Szechuan uses quite alot of chilli's and this is one of their main growing crops.  Not a lot of meat is used or even required when you make noodles although pork isd a firm favorite.
Cook noodles according to package directions, omitting salt and fat. Drain and rinse with cold water; drain well. Combine Szechuan sauce, peanut butter, soy sauce, and juice in a large bowl, stirring with a whisk. Add noodles, carrots, and green onions; toss and serve immediately, you can serve it with either pork or chicken on the side or mixed into the noodles.
http://www.food.com/recipe/szechuan-noodles-with-spicy-beef-sauce-48760
http://chinese.food.com/recipe/hot-and-spicy-szechuan-noodles-dan-dan-mian-166965
http://www.food.com/recipe/szechuan-noodles-130318
http://www.epicurious.com/recipes/food/views/Szechuan-Sesame-Noodles-102196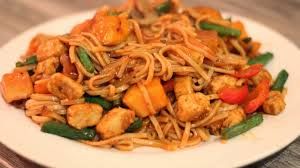 The flavors are decidedly pungent and bold a resulting from liberal uses of garlic and chilli peppers - also the unique flavour of szechuen pepper which can also be bought from any Asian store, these are roasted slowl in a dry skillet and  when the aroma is released you know that they are ready to put to one side and cool, take care not to burn them - either by stirring frequently or shaking. these can then be bottled and kept for months and months.