Posts: 1,021
Fried Rice - so easy! and tasty as well! If you are hoping to just heat it up later in the microwave pre-prepare this delightful dish.   heat up your wok adding some oil adding maybe about a teaspoon of grated ginger and garlic (not too hot to make it burn though... add a splash of sesasme oil, stir well, adding the rice and  some soya sauce dark and light to give it just that right taste, I then add  an omelette that I have cut in thin strips about half a cup of sliced spring onions and not much more - you dont need fancy fried rice as you dont want to take anything away from the dishes that you are serving.  
http://www.food.com/recipe/chinese-fried-rice-38748
http://chinese.food.com/recipe/easy-fried-rice-20643
http://chinese.food.com/recipe/chinese-restaurant-fried-rice-142346
http://australian.food.com/recipe/microwave-fried-rice-94211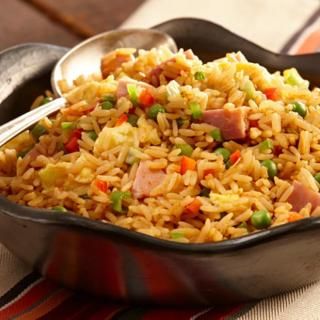 Fried Rice can be simply changed into a complete meal by adding almost any lovely left overs from cold meat to shrimp or vegetables as well.
how do you make your fried rice - please give us some ideas and tips..... by the way cold fried rice is always nice served as a rice salad at buffets and barbecues.