Posts: 1,021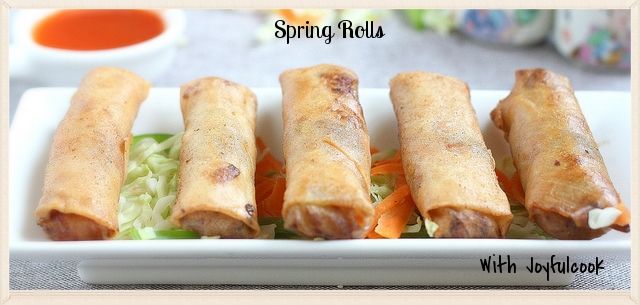 Making Spring Rolls is not really that hard at all,and the filling can either have meat or be vegetarian.  Not much meat is used in spring rolls compared to vegetables! shrimps are also often added and these delightful rolls are usually served with a dipping sauce.
Baked]www.food.com/recipe/baked-chicken-spring-rolls-329560]Baked
chicken spring rolls
Veggie]www.food.com/recipe/veggie-spring-rolls-118045]Veggie
spring rolls
http://deep-fried.food.com/recipe/crispy-fried-chicken-spring-rolls-319350
I have always found that spring roll wrappers are always better if you wrap them in a damp towel or kitchen towels to keep them from drying out while making them.
There are so so many way of making these delicious Spring rolls hope that you can share you favorite recipes here with us and of course tips!
Last Edited By: Joyfulcook Jan 1 15 5:45 PM. Edited 9 times