Posts: 1,021
Most people really enjoy having a Chinese meal.
Chinese cooking is renowned throughout the world and Chinese food has a distinctive culinary style all its own. The emphasis is on fresh, seasonal ingredients, prepared with a minimum of fuss and beautifully balanced as far as color, texture and presentation. There are several cooking techniques. All seek to preserve flavor and nutrients.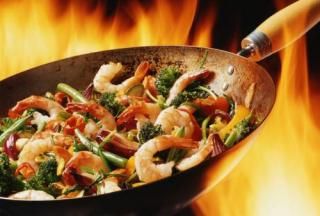 This is the classic Chinese cooking method but there are many other ways like Braising, steaming, Roasting, Stir frying or boiling.
One important thing is to make sure that you have all your ingredients prepared well ahead, specially ifyou are stir frying as you just dont have time to do anything once you start cooking!
The best Wok to buy is a mild steel wok. found in any Asian Store - they need oiling each time they are washed but they are the best at conducting heat.
Last Edited By: Joyfulcook Jan 1 15 3:08 PM. Edited 1 time